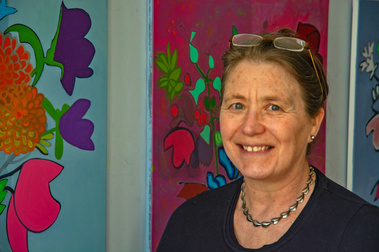 Biography
Annabel Tilley is an artist and writer, and has exhibited widely including: Transition Gallery, APT, Standpoint Gallery, Usher Gallery, Hastings Contemporary, Nottingham Castle Museum, Oriel Davis, Towner Art Gallery, Hastings Museum, The Jerwood Drawing Prize, RCA Secret and Fruehsorge Contemporary Drawing in Berlin. She has undertaken several residencies and commissions, and was shortlisted for the John Moore's Painting Prize 2020.
Annabel Tilley trained in Fine Art (Painting) at The University of Brighton. She has an MA in literature and lives in Hastings. She delivers regular classes on experimental drawing, collage and sketchbooking at West Dean Collage among others. She has lectured on professional practice for artists at universities and arts orgs around the UK.
Annabel Tilley co-founded and ran the London-based arts organisation, Zeitgeist Projects, with Rosalind Davis from 2012-2015 to provide opportunities for artists including their popular talk: The A-Z of Surviving as an Artist, and the annual open exhibition: The Zeitgeist Open (2012-2015). She has co-curated a number of exhibitions including: No-one Lives in the Real World, Standpoint Gallery (2015), The Distance Between (2014), Discernible (2013) and Collectible (2012).
She is co-author of What they didn't teach you in art school (ILEX/Octopus Books, 2016) which is available from Amazon and all major art galleries: Tate Modern, Tate Britain, The Royal Academy etc.
Photo by Brian Bailey
Artist Statement
Annabel Tilley makes work that brings together a huge love for art history, museum collections, the natural world and architecture.
Annabel Tilley's early background in the theatre, and a father who worked in films and encouraged her photographic view of the world, is much in evidence in her paintings and drawings that often present an amalgamation of collaged shapes, patterns and objects - taken from her own source-photographs - and then re-presented as 2d colourful objects in staged 3d spaces.
Not afraid of the decorative, Annabel Tilley's work relies on her instinctive feel for the shape, colour, pattern and repetition that she finds and records – through her photography - in the natural and urban world.
Through the intense drawing, collage and painting process that then takes place: these structures, shapes and objects, become distilled into their simplest form, and it is the creation of this flat motif, and a huge energy for endowing pattern, that is at the heart of all Annabel Tilley's work.
Image: Annabel Tilley. On the shelf, 13 cut-outs. Oil on canvas, 105x70cm, 2019.

Photo by Brian Bailey